---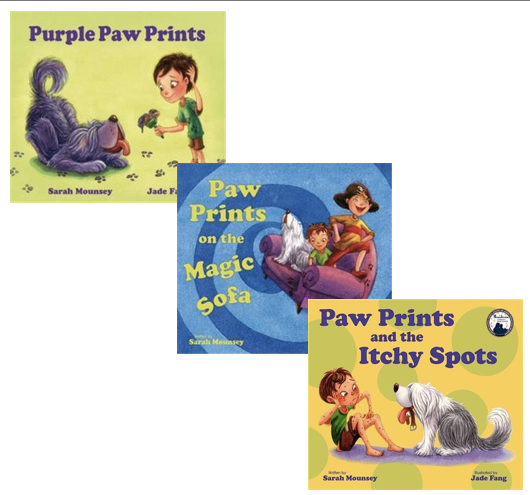 Paw Prints Series (Set of 3 Books)
---
Written by Sarah Mounsey  |  Illustrated by Jade Fang
set of 3 paperback books
This awesome-pawsome, award-winning set of books contains three stories - 
Purple Paw Prints
Eddie knew as soon as he finished painting Oscar that it was a big mistake! Join Eddie and Mia as they attempt to clean their lovable dog Oscar and get into all sorts of wet and purple fun along the way!
Paw Prints on the Magic Sofa
Bump, bump, bumpity, bump! Eddie's sofa is so much fun that different animal friends jump on as they travel around the world!
Eddie and Will's magical journey on their magic sofa will fire a child's imagination and the surprise that comes with each turn of the page promises lots of guessing and laughter.
Paw Prints and the Itchy Spots
Eddie is covered from top to toe in itchy, red spots! How did they get there and how will he make them disappear? With the help of his mischievous friend William and his loveable dog Oscar of course! Find out how this trio sniff their way out of another spot of bother in the humorous tale.